Consolidated Financial Performance for Q2FY18 vs Q2FY17
Revenue of Rs. 224.67 crore v/s. 161.92 crore [Up by 39%]
EBITDA before exceptional items of Rs.25.77 crore v/s. Rs. 11.95 crore [Up by 116%]
PAT at Rs. 13.38 crore v/s. Rs. 8.53 crore [Up by 57 %]
EPS of Rs. 1.95 v/s. EPS of Rs. 1.25
Gravita reported a 57 % rise in second quarter profit on the back of rising capacity and improved operational efficiency.
Gravita's Profit After Tax surged to Rs.13.38 crore as against Rs. 8.53 crore for the corresponding quarter last year as the company added 16000 tons of fresh Lead recycling capacity. PAT margin stood at 5.96 % in Q2 FY18 versus 5.27 % in Q2FY17.
Gravita India has 11 recycling plants across the world. The revenue for the Quarter ending September rose by 39 % to 224.67 crore rupees.
EBIDTA for the July-September period stood at Rs. 25.77 crore as against Rs. 11.95 crore during the same quarter last year. EBIDTA margin stood at 11.47 % in Q2FY18 as against 7.38 % in Q2FY17.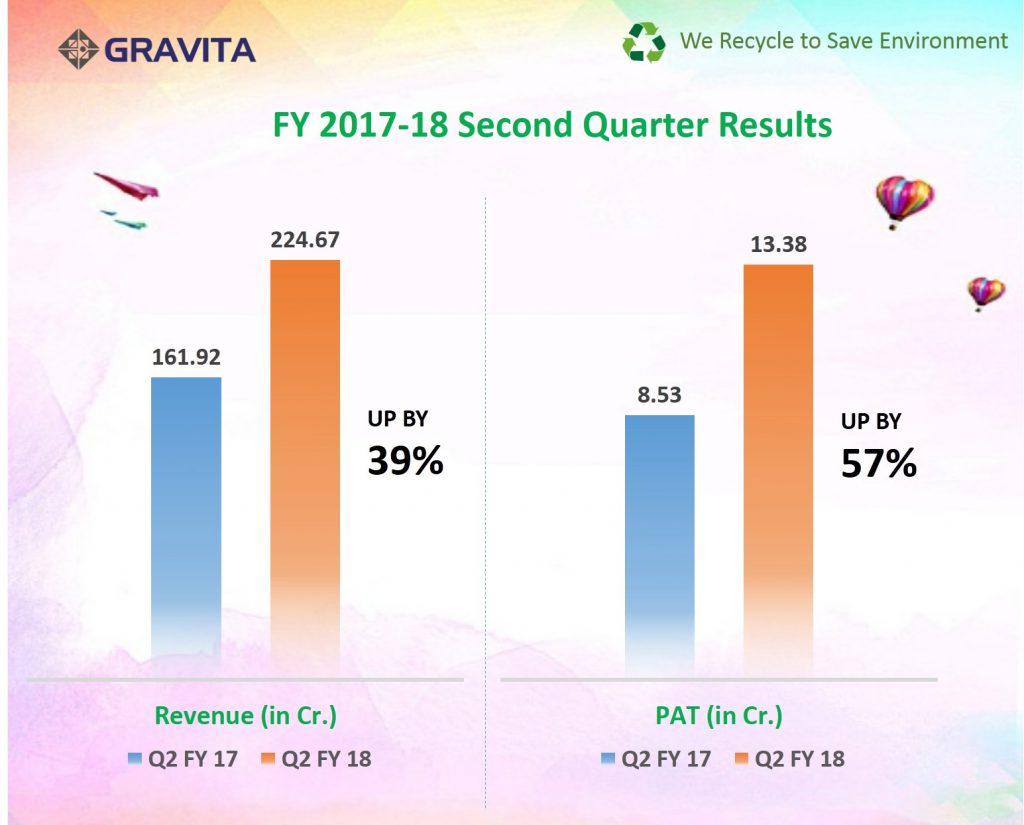 Highlights during the Quarter
Commenced commercial production of PET Flakes at its new Recycling Plant at Jamaica with an annual capacity of 4800 MTPA.
Gravita honoured with World Non-Ferrous Award by MTLEXS for being 'The Best Performing Company' in Non-ferrous Metals Sector on September 8, 2017.
Expansion in production capacity of its existing Lead recycling unit situated at Chittoor, Andhra Pradesh by 16000 MTPA and as on date the total capacity of this unit is 28000 MTPA.