The 21st Annual General Meeting of Gravita India Limited was held at its registered office on 29th July, 2013. Ms Leena Jain, Secretary of the Company welcomed all the Shareholders, Board of Directors, press reporters and other special invitees at the meeting.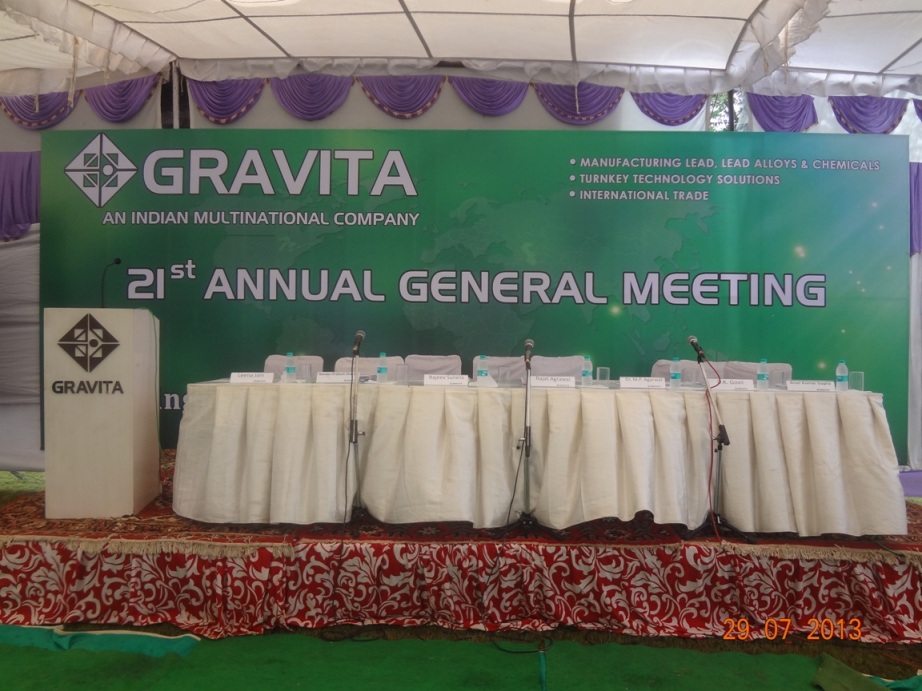 Mr Rajat Agrawal, Managing Director of the Company while addressing the shareholders of the Company informed that the Company has achieved an ambitious growth of 47% and 27% respectively in its top line and bottom line. At the AGM, along with others decisions, the shareholders approved the payment of final dividend at the rate of 15% (i.e. Rs 0.30 per share). Mr Agrawal further informed about the steps taken by the Company towards overall growth of Gravita group. He informed that Company has recently incorporated two new wholly owned subsidiaries in Nicaragua, Trinidad and Tobago and capacities addition for value added products at Jaipur works.
The Company has increased its total installed capacity for Lead recycling to 65000 MTPA which will further increase to 128325 MTPA by the end of current fiscal on account of expansion of existing capacities of Phagi Plant and addition of new plants at Bhuj, Nicaragua, T& T, South Africa and Saudi Arabia.
Global deliverance capacity, more focus on value added products market and wider geographical coverage will augment competitiveness of the organization